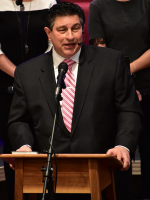 Dr. Tony L. Wilson has been Senior Pastor of White Oak since November, 2009. He is originally from Chattanooga and is married to Leslie. They have two sons. Timothy (wife, Leah) and Daniel. They are the proud grandparents of two granddaughters…Averie Kate and Emery Lane.
Tony served on the Tennessee Baptist Mission Board and has served the Hamilton County Baptist Association in different positions throughout the years.
He and his wife, Leslie, have been involved in Jamaica missions for the past twenty six years. He is the Director of Evangelism for Safe Pasture International. They have also led groups to Israel, and traveled to Turkey, Greece, Egypt, Canada, Puerto Rico, Antigua, Hawaii and many other places.
He has preached many Revivals, Evangelism Conferences and One Day Meetings. He loves to talk about what King Jesus means to him.
Tony's life verse is Jeremiah 32:17
'Ah, Lord God! Behold, You have made the heavens and the earth by Your great power and outstretched arm. There is nothing too hard for You.