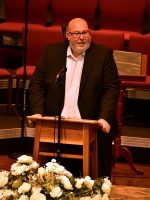 Rev. John S. Trewhella II
Associate Pastor of Family Ministry
4238778551
John came on staff at White Oak in September of 2015 to become Associate Pastor of Family Ministries. John is one of the teaching pastors at White Oak and his passion is to lead people into a discipleship relationship that will last for a lifetime. Part of his leadership at White Oak is overseeing Family Ministry and Discipleship.
John is married to Katie (May of 2002) and they have two kids (Jet and Sadie). As a family they love spending time outside in their neighborhood and hanging out with family.
John has a Bachelor's Degree (Education) from Tennessee Temple University and a Master of Divinity Degree (Church Growth) from The Southern Baptist Theological Seminary.  He desires to continue education through doctoral studies.